Is the spread of dust a concern in the office, home, on the job site, or in the plant? Then sticky mats are your solution to control the spread of dirt and dust from one area to another. Sticky mats will take dirt off shoes, wheels, and even pet paws as the mats are crossed. Easy to use and cost effective these mats will reduce your time to sweep up dust in unwanted areas. Stop dirt at the door and order sticky mats online today.
Sticky Mats

---




Use these mats on hard flat surfaces, because the bottom of the mat has an adhesive that sticks to the floor to prevent slipping. Each sticky mat features 30 layers of adhesive film that can be easily removed.

Popular sizes for sticky mats are 18" X 36", 24" X 36", and 36" X 36".

Buy Sticky Mats

Framed Sticky Mats

---




Looking for a portable or temporary yet reusable solution to keep dirt out. Framed sticky mats are what you need. These mats feature a hard polystyrene frame with anti-slip backing. Each mat comes with 60 layer pad of adhesive film.

Framed adhesive mats have 24" X 30" mats with 25 1/2" X 31 1/2" frames. These mats come in a variety of colors.

Buy Framed Stick Mats

Specialty Sticky Mats

---




Keep your home, office, or meeting space clean with attractive specialty sticky mats. These mats come with reusable decorative frames and a 30 layer pad of adhesive film.

Specialty adhesive mats have 24" X 30" mats with 25 1/2" X 31 1/2" frames. The frames come in a variety of designs.

Buy Specialty Mats
High-Tech Contamination Control
---
PLX Industries' Versatile Mats
are Ideal for:
Cleanrooms
Manufacturing Office
Industrial
Food Preparation
Hospitals
Laboratories
Aerospace
Computer
Schools
Construction
Print Shops
Manufacturing
Sticky mats are made of several layers of adhesive-coated film. Each layer has a numbered tab in the corner of the mat for easy removal. The number on each tab is there to let you know how many layers are left. When a mat is stepped on or traversed the low-tack adhesive will trap dust and debris. The adhesive will not transfer to shoes or wheels. When the mats no longer stick due to dirt build up, simply peel off the layer to reveal a fresh coat of adhesive.
Easy Refills and Nonskid, Reusable Frame.
---
There are 2 types of sticky mats, regular sticky mats and framed mats. Regular sticky mats are designed to stick to the floor until all the layers are used. Framed mats are a portable sticky mat that has a hard polystyrene board with an antislip backing. The frames can be placed on any kind of flooring and moved from one entrance to another. Each frame of a framed mat is reusable and when the sticky mat is gone, simply order another sticky mat and place it on the frame.
Saves and Protects.
---
By using sticky mats in high traffic areas you can reduce the amount of dirt entering or leaving an area. With foot traffic dirt reduced you save a significant amount of time when it comes to cleaning. Also the reduced dirt will keep machines cleaner and reduce the amount of maintenance needed due to dirty components.
[ Click Here ] for Products & Secure Online Ordering
[ Click Here ] to Contact Us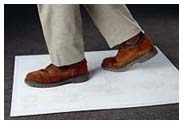 Compare Sticky Mat Features
| | Sticky Mats | Framed Mats | Specialty Mats |
| --- | --- | --- | --- |
| Layers / Mat | 30 | 60 | 30 or 60 |
| Mats / Case | 4 | 1 | 1 |
| Portable | No | Yes | Yes |
| Reusable Frame | No | Yes | Yes |
| Multiple Sizes | Yes | No | No |
| Sticks to Floor | Yes | No | No |
| Color Variety | Yes | Yes | Yes |
| | Order Now | Order Now | Order Now |